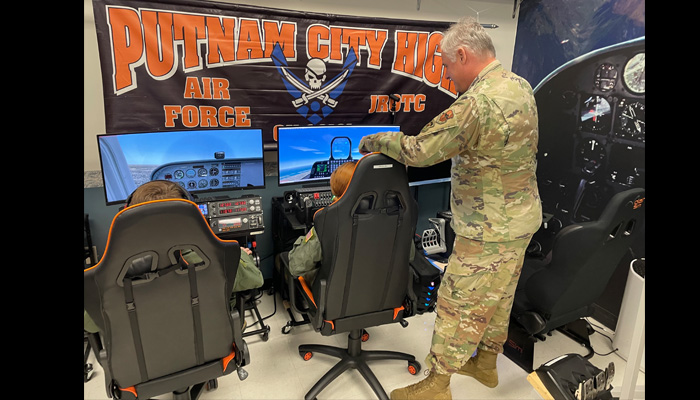 22 Jun

Congratulation to Putnam City Schools on Installing Edustation Pro Flight Simulators to their AF JROTC Program

By Matt Esker, an  Air Force pilot & flight instructor (Ret) who represents STEMPilot in OK.

Most people who pay attention to high school life know that participation in extracurriculars such as band, choir, and especially athletics help high school students succeed.  There is evidence to show that the dropout rate is reduced for students who participate in extracurricular actives, and the number one predictor of college success is class attendance in high school.  Is it due to the socialization factors involved?  Maybe so, but not all students develop the skills required to be successful in athletics or the arts. What are other avenues for success?

For the last nine years, students at Putnam City High School in Oklahoma City have had another option–Air Force Junior ROTC.  Lt Col Dane "Hans" Christensen answered the school district's call to start their newest program in 2013 and as of the writing of this article, it has grown into the largest extracurricular program at the school.  Average unit enrollment is 150 cadets from the approximate 1,700 academic year population.  Hans and his NCO MSgt Frank Mattair, endeavor to provide a space for students who want to be challenged and to belong to something bigger than themselves.  It is this sense of belonging and sense of teamwork that keeps cadets motivated to learn and succeed in their other courses in school.

In their nationally recognized and award-winning detachment, cadets learn about leadership, science, accountability, public speaking, and real-world citizenship responsibilities.  Hans will be the first to tell you that his USAF career taught him a lot of life lessons and gave him some great experiences, and although cadets wear the Air Force uniform, JROTC is not a platform strictly for military recruitment. In fact, the mission statement is simply: "Develop citizens of character dedicated to serving their nation and community," and by this, Hans and Frank help ultimately prepare students for life as a productive citizen in myriad capacities.

To date, the AFJROTC unit at Putnam City High School has purchased seven STEMPilot Edustations (desktop flight simulators) with the help of multiple State-level grants.  The cadets in the Honors Flight class can start learning about flying fundamentals using these simulators.  Some of the grants they have received come directly from HQ AFJROTC, some from Putnam City High School, but most monies have come from the Oklahoma Aeronautics Commission through its annual Aviation Education Grant Program.

Hans credits his life and career success to mentors, parents, and athletic coaches, teaching him to succeed.  He graduated from Mingus Union High School in Cottonwood, Arizona where he played football, basketball, and baseball.  He also participated in Boys State, served as National Honors Society President, and was honored as the Homecoming King.  After high school, he attended the United States Air Force Academy (USAFA) in Colorado Springs, Colorado and played baseball at the collegiate level.  Earning a Bachelor of Science degree, he commissioned as a 2nd Lieutenant and successfully competed for an Air Force pilot training (UPT) slot.  He attended Undergraduate Pilot Training at Vance Air Force Base in Enid, OK as a member of class 95-04 (the fourth class with a fiscal year 1995 graduation date).  After earning his USAF pilot wings, Hans went on to train in the KC-135R, KC-10A, & T-1A, instructing and evaluating, logging 3,500+ flying hours.  After a 20-year career as a USAF officer, he retired in 2013 in the grade of Lieutenant Colonel.  After such an amazing career, realizing how many people helped him along the way, Hans wants to pay it forward and be that mentor for his cadets.

Throughout the nine years Hans has led the Putnam City High School AFJROTC program, it has helped seven cadets earn their private pilot's license.  Nationwide, of all the people of any age who even start civilian flight training, only about 25% end up completing the training and earn their private pilot's license.  With all the stresses of high school, it is especially difficult for teens.  According to a 2018 article in Air Force Magazine, USAF Drops $2.4 Million in Scholarships To Get Cadets Private Pilot Licenses, 120 AFJROTC cadets received USAF scholarships to help them learn to fly that year.

The eventual goal of the program is 1200 USAFA, ROTC, & JROTC cadets annually receiving scholarships towards their pilot's license.  These scholarships come with no strings attached, and there is no expectation that these cadets go on to join the military after earning their license.  The USAF issued a press release in 2018 expressing the view that these efforts will have a positive impact on the pilot shortage crisis facing the entire nation.  And in helping solve the national pilot shortage, the US Air Force believes it will help solve its own pilot shortage.

Hans's philosophy follows suit: "Help these students become responsible, articulate, and well-rounded adults, so we can pass on this country to their generation."  The military certainly can use young men and women like that, but so can plenty of other American industries.  If you visit the AFJROTC unit at Putnam City High School, you quickly get the feeling of being in an Air Force flying unit, and the instructors clearly try to impart that sense of excellence to their students! It is clear that the instructor team has used the investments from the school district, USAF, and the state of Oklahoma to build a program that any cadet would be excited to be a part of!

AFJROTC at Putnam City High School is so important in the lives of these students and in the future of our country and our world.  It serves as a model for other schools to give their students similar opportunities to be well-rounded and serve their communities, states, and nation.